Name: Sarah or Ping Chong
Age: 14
Location: Bloomingtizzle
A picture of you [optional]: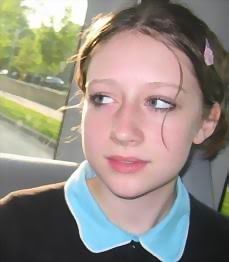 //Favorite\\
Medium: Collage, installation, photos, fashion
Artist: Warhol, Nan Goldin, Nina Mouritzen, David Lachapelle, Magritte
Color combination: Purple and brown, Pink and orange
Band or Artists: Atmosphere, Elliott Smith, David Bowie, Radiohead, The Clash, The Shins, Belle and Sebastian, P.O.S, The Streets, Bright Eyes, Ok Go, Postal Service, The Cure
Book: Sex, Drugs and Cocoa Puffs by Chuck Klosterman, Stiff: The Curious Lives of Human Cadavers by Mary Roach, Blink by Malcolm Gladwell, anything by Fransesca Lia Block, Running with Scissors by Augusten Burroughs, Sloppy Firsts by Megan McCafferty
//Questions\\ Do you..
Photograph? Yeah, but not in any serious kind of way. I can't even work a manual.
Photoshop? I can cut stuff out and change color saturation. So no.
Sew? Again, in the most rudimentary of ways.
Graffiti? I wish. I would if I had stencils and less of a fear of cops.
//Short paragraph about yourself\\
I'm more interested in art from a spectator's point of view, since I suck at drawing and stuff. I like crafts and writing and music. I've never seen the Matrix and I like to hit people. Glitter is fun. I wish I had more dedication to stuff I'm interested in. I want to be a novelist or a makeup artist or a record label exec or a fashion director for a magazine (because I can dress other people but not myself.) I work at a club. I'm in 9th grade. I live on the 7th street that this community was named after. I hate writing stuff about myself.